Margate student Kerry Boyd gets Kent youth PCC job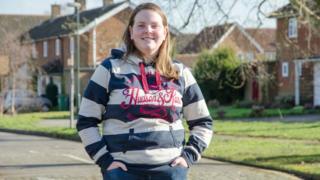 A 19-year-old student has been chosen as the new youth police and crime commissioner for Kent.
Kerry Boyd, from Margate, will take a gap year from her degree in education and business studies to take up the full-time role from April.
Kent's first youth commissioner, Paris Brown, resigned last year over comments she had posted on Twitter.
Miss Boyd said she saw her job as giving young people a voice and finding out what they want from the police.
"It was a role that was calling out to me," she said.
Football supporter
Miss Boyd was a London 2012 Olympic Torchbearer and is also an active runner and supporter of Chelsea FC.
The former head girl of Hartsdown Academy will work a 37.5-hour week for £15,000 a year, a third of which will be paid for by Kent Police and Crime Commissioner Ann Barnes, who has an £85,000 salary.
Mrs Barnes said Miss Boyd stood out as a "strong-minded young lady with a hunger to make a difference".
"I'm confident that Kerry has lots of exciting ideas to make sure that young people are involved in future policing," she said.
"She's only 19 and she has packed such a lot into her short life so far."
Miss Brown was 16 when she was given the job, but she quit after police investigated complaints that some of her comments posted on Twitter before she was appointed were racist and homophobic.
She said she had been "wildly exaggerating" when posting tweets about her sex life, drug-taking and drinking.
No action was taken against her and the posts were deleted.
The episode led Mrs Barnes to commission a review by the University of Central Lancashire amid questions about the selection and recruitment process.
'Social media vetted'
The report revealed Miss Brown's social media accounts had not been checked, but she was questioned about her use of them by a "peer panel" and nothing of concern emerged.
It said vetting for Miss Brown was the same as for police staff and officers within the force, and the process was "robust, transparent and very well designed".
Mrs Barnes said all Miss Boyd's social media activities had been vetted.
Miss Boyd has tweeted more than 6,200 times but her profile is protected so only followers can view her postings.
Hartsdown head teacher Tony Davies said Miss Boyd would be an excellent ambassador for Kent's young people and described her as a confident young woman who was a good listener and an effective mentor.