Raids in Kent to crackdown on rail passenger thieves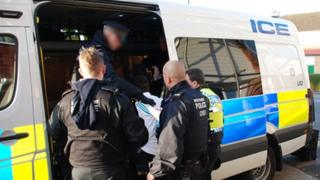 Raids were carried out at 20 addresses in four towns in Kent as part of an operation to crack down on thieves who steal from train passengers.
A total of 215 officers from British Transport Police and Kent Police were involved in the raids earlier.
They targeted properties in the Chatham, Dartford, Gravesend and Gillingham areas and 23 people were arrested on theft-related offences.
Kent Police described it as a "significant operation".
Supt Jason Bunyard, of British Transport Police, said: "The operation targeted individuals suspected of stealing property from passengers travelling on late night trains from London towards Kent and Sussex.
"We have seen episodes of thieves just brazenly walking up and removing property from bags or from suit jackets."
He said the main items stolen were mobile phones, laptops, purses and wallets.