Kent man's fears murderer Anthony Swindells could seek revenge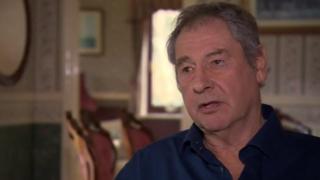 A man who shot an armed murderer 17 years ago has spoken of his fear the killer will seek revenge if released.
In February 1997 Anthony Swindells entered Roger Andrews's home in Birchington armed with four handguns.
Swindells, who had strangled former Ramsgate town clerk Ken Speakman three months earlier, was shot by Mr Andrews three times.
The killer was jailed for life and now a parole board is considering whether he should be freed.
Swindells broke into the Ramsgate home of 84-year-old gun collector Mr Speakman, murdered him and stole his guns.
He was jailed for life and told he would be eligible for parole after 17 years.
'Bears a grudge'
Mr Andrews said he was concerned for himself and for other members of the public.
"I fear he bears a grudge against me because before he attacked us no one knew who he was," he said.
Relating the events of the day of the attack, Mr Andrews said he had seen someone trying to shut his back door.
The man turned around holding a handgun and told Mr Andrews to lie face-down.
"I made a dash for my cellar where I kept my legally-held hand guns," Mr Andrews said.
He loaded a couple of revolvers while Swindells went upstairs and confronted Mr Andrews's wife.
"He came back downstairs as I was coming up from the cellar, we confronted each other in the hallway," Mr Andrews said.
"I shot to wound him to get him to drop the gun - I shot him three times and by this time his gun was up pointing at me.
"I ducked through the doorway and as I went through he fired into the doorway, narrowly missing me."
Swindells left and Mr Andrews followed him, while calling the police. Officers caught Swindells in a nearby field.
Mr Andrews has made a victim's statement to the parole board, which has adjourned its hearing on whether to release Swindells until March.
'Defenceless old man'
Former detective superintendent Nick Biddiss, who led the investigation, also made a statement to the board.
He said he thought Swindells was a danger to society and should never be released.
"Let's not forget that what Swindells did was break into a home and beat up an 84-year-old man in Ramsgate, tortured him and killed him," he said.
"A defenceless old man who had been a pillar of society, in his own home.
"Three months later he then turns up at Mr Andrews's house.
"Without a doubt, in my mind, why would he have four loaded guns, no mask or any sort of cover of identification?
"My view was he intended to kill the occupants of that house and Mr Andrews was one of many people on a list that we found that Swindells had of notable people of Kent.
"This guy is an assassin - he's not just a one-off perhaps random killer.
"He planned this. There was meticulous planning."
The Ministry of Justice said it did not comment on individual cases.
A spokesman from the Unlock charity for people with convictions said that prisoners released on parole were carefully monitored.