Bear Grylls: Survival expert calls flood scouts 'heroes'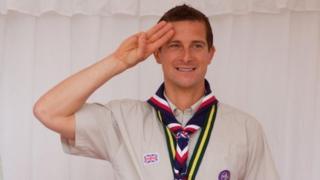 Celebrity adventurer and UK Chief Scout Bear Grylls has praised scouts in a west Kent village for their actions during the recent flooding.
The survival expert posted a message on Youtube saying members of the Yalding troop were his "scouting heroes".
He described how the scouts had gone out in canoes when the village was engulfed with water over Christmas to rescue residents from their homes.
Yalding has flooded four times in two months with 600 homes affected.
On the video-sharing website, Bear said: "I think for me, my scouting heroes for this year are the Yalding scouts, who, on Christmas Eve and Christmas Day, when all that horrific flooding was taking place, what were they doing?
"They were out there helping in their canoes, saving lives, helping people, making a difference and for me that is what makes them my scouting heroes."
Among those who had to be saved were 76 people from a caravan park who had become stranded when the waters suddenly rose.