Hole appears in subsidence-hit road in Broadstairs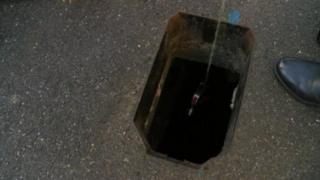 A 6m (20ft) deep hole has appeared in a road in Kent where residents were forced to leave their homes four years ago because of sudden subsidence.
Six families had to abandon their homes in Victoria Street, Broadstairs, in 2009 and only returned in 2012.
The hole was found beneath a manhole by Southern Water during routine maintenance work before Christmas but has since got larger.
Kent County Council said a survey would be carried out on Monday.
Residents in the street, which is built on the site of a former chalk quarry, say the void is much wider than the opening at the top and goes down to a depth of 6m (20ft).
'Thin layer'
Jill Roach, who was allowed back into her home in July 2012, said: "It was really just like a shaft but as time has gone on it has got bigger and deeper.
"There is only a thin layer of tarmac over that and then there is a big void underneath.
"It is obviously concerning, as what would happen if the tarmac gave way because there are so many sinkholes appearing everywhere?"
The hole has been cordoned off by Southern Water.
In a statement, the firm said: "We discovered the subsidence when carrying out routine leak detection work.
"None of our underground pipes in the area would have caused this subsidence and there are no leaks on our water mains which would have contributed.
"We put barriers up as a health and safety precaution as we did not want to leave the site unguarded."
Russell Boorman, from Kent County Council, said: "A geo-technical survey will be carried out to determine the cause and extent of the void so that it can be fixed as quickly as possible."