Pleasurama development site agreement scrapped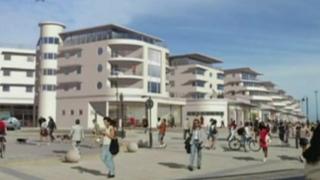 An agreement to redevelop the Pleasurama funfair site in Ramsgate has been scrapped after plans for the project failed to materialise.
SFP Ventures UK received planning permission in 2004 for a hotel, luxury apartments and shops on the seafront site, now known as Royal Sands.
On Thursday, Thanet District Council voted to terminate its agreement with the developers.
SFP Ventures UK has not commented on the decision.
'Economic downturn"
The site has been described as one of the most important regeneration projects in east Kent but has been derelict for 10 years.
The council own the freehold of the seafront site but SFP Ventures owns the lease.
The development agreement attached to the lease specifies that it should be completed by the end of February.
In a statement, the authority said: "Members of cabinet have decided to adopt the recommendations of the overview and scrutiny panel to terminate the development agreement in relation to the Pleasurama site in Ramsgate.
"A construction expert will now be appointed to advise the council on the steps to be taken next."
Last month, the company said the economic downturn meant the original funder was not in a "position to proceed" but a way forward had been agreed and they planned to "start on the site in spring".