Sochi 2014: From cowshed to curling rink in Tunbridge Wells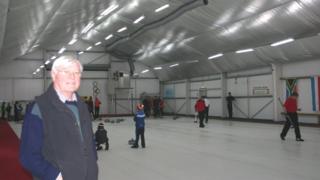 The phones have been ringing non-stop at England's only dedicated curling rink since Team GB's run of medal success at the Sochi Winter Olympics.
Business is booming, despite its unlikely location on a farm just outside Tunbridge Wells in Kent.
"We've had a big surge in all sorts of enquiries," said owner Ernest Fenton.
"People are ringing and saying things like. 'I live in Northampton and my daughter wants to give it a try'.
"People from all over the place."
'Man with experience'
The men's and women's curlers have delivered half Team GB's current haul of four medals at Sochi 2014.
The women, under Eve Muirhead won bronze on Thursday and the men, led by skip David Murdoch, took silver on Friday.
"Leading up to the Olympics all the focus of attention seemed to be on the girls' team but Dave Murdoch had already won the World Championships twice," said Mr Fenton.
"He is the man with experience and I'm not surprised he was in the final.
"But the Canadians don't make many mistakes."
Every one of Team GB's curlers is Scottish and the game originated on Scotland's frozen lakes in the 15th Century.
So why is there a rink in the heart of Kent, the garden of England?
'Commercial suicide'
Mr Fenton, a Scot who moved to London to work as an accountant more than 30 years ago, is a keen curler himself.
He bought the farm in 1982 and converted his cowshed into a curling rink in 2004 because he couldn't find anywhere to play his favourite sport.
"Curling was my main winter enjoyment - it's very popular in Scotland," he said.
"When I came down here I couldn't find any curling to start with."
After about a year he started playing at ice rinks in Richmond, Streatham and at Alexandra Palace but, because they were mainly used for skating, "the ice was awful for us".
His rink is just for curling.
It is the base for the England men's and women's curling teams and is currently hosting the five-day England men's championship.
However, Mr Fenton said despite his rink's status as the home to international sports teams, the venue is not a money-spinner.
"It's commercial suicide because the rink is full when there are 24 people on it, whereas if I had skaters there would be 10 times as many," he said.
"When I had the cows they made a loss and they were very messy.
"The curlers are slightly less messy but they still make a loss. Well not quite - it breaks even."