Death rumour 'cost vintage car specialist thousands'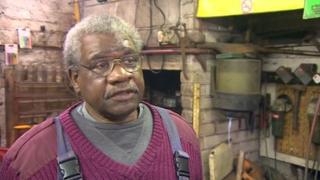 A vintage car specialist who returned from holiday to find people thought he was dead has said the rumour has cost him thousands in lost business.
Well-wishers paid moving tributes to Lloyd Bryan on an online forum after reading that he had supposedly died of a heart attack.
Mr Bryan, from Tunbridge Wells, Kent, said he had no idea who started the hoax.
The 74-year-old said the falsehood was costing him about £2,000 a week.
Neither Mr Bryan or his wife Julie, who returned from holiday in the Caribbean in December, use the internet.
"A lot of the traders saw me and said 'oh, he's alive' and kept coming up and pinching me," he said.
"Quite a few of my customers rang up to find out if it was true.
"It's costing me about £2,000 a week."
He said if he could speak to his customers, his message would be: "Come back, I'm alive."
Mrs Bryan said: "It was a shock at first.
"I was just glad that when we heard about it, I knew that we were on holiday together."
Social media author David Taylor said: "Unfortunately it's all to common these days, with the likes of Facebook, Twitter online forums and all the social networks.
"That means that people can put a lot of information online.
"A lot of it can be completely made up - lies or malicious falsehoods or whatever.
"Unfortunately, if people see it online, they believe it."