Tunbridge Wells 'grot spot' cinema demolition countdown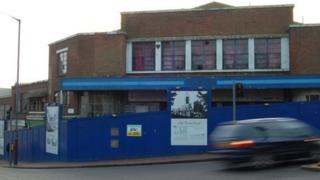 The owners of a derelict town centre cinema in Kent have been given one month to appeal a demolition order.
The former ABC cinema in the centre of Tunbridge Wells has been derelict for nearly 14 years pending a number of demolition and redevelopment plans.
Opposition Liberal Democrats on the borough council had organised an online petition to have a compulsory purchase order imposed on the owners.
Owners Carlyle and Bellhouse said they would demolish the cinema.
Demolition 'by March'
The Conservative-led council served a Section 215 notice on the cinema's owners, requiring all buildings on the site be demolished "leaving the site in a safe and tidy state".
They have 28 days to appeal against the order. A council spokeswoman said the notice required the owners to carry out the demolition work within six months if their appeal is not upheld.
In a statement, Carlyle and Bellhouse said: "We are in the process of finalising both the appointment of a demolition contractor and our negotiations with Natural England and Network Rail.
"Once these are completed we will be able to start timetabling the demolition work.
"It remains our intention to start work by the end of March."
Lib Dem Ben Chapelard branded the site a "number one grot spot".
Mr Chapelard said: "This is a significant step. After 13 years of a 'can't do mentality' Tunbridge Wells Borough Council has finally used the force of the law on the former cinema site.
"Nearly 4,000 residents have signed our petition."
But he added: "What happens after demolition? Will we have to wait another 13 years for the next council move?"