'Stricter rules' call for London to Thanet relocations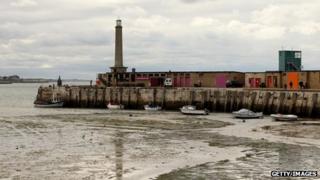 Politicians in part of Kent have said stricter rules should be put in place for London councils who want to move families to the area.
Thanet District Council said extra tenants from the capital were putting a strain on local resources.
Thanet South MP Laura Sandys said she was waiting for confirmation on how many people had been sent to the area.
The London boroughs said that where possible, families were placed as near to their home areas as possible.
Some people who have relocated from London to Thanet said they were unhappy with the location.
One woman, who did not want to be named, said: "I do know friends who are still looking for jobs for one year now, even more.
"There are not so many opportunities as there are in London or in bigger places."
'Vulnerable people'
But Margate resident Yvonne, who did not want her surname disclosed, claimed some of new residents behaved anti-socially.
"They have a set of people that they send that they don't want in London and these are the ones that are in Margate," she said.
The district council has called for a protocol to be put in place that has to be followed by London councils taking advantage of cheaper private housing by the coast.
Madeleine Homer, director of community services, said: "There's no point putting benefit dependent, vulnerable people into an area which is already under a lot of pressure because it already has disproportionate numbers of those in this district."
Conservative MP Ms Sandys is awaiting a response to her request for information about the number of people sent to Thanet from London.
"Actually, the reality is that we've had very few people," she said.
However, she said that councils should look after their own residents rather than relying on other areas to provide housing.
A statement issued on behalf of the London boroughs said that where possible, families are placed as near to their home area as they can be.
When they have to move outside, the accommodation has to be affordable, suitable, of a good standard and should not inflate local rents, the statement added.