Claire Tiltman murder: Colin Ash-Smith to be charged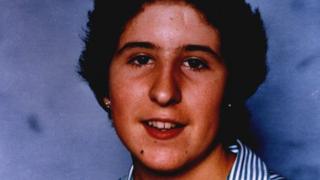 A man is to be charged with the murder of 16-year-old schoolgirl Claire Tiltman, who was stabbed in Kent 21 years ago.
The Crown Prosecution Service (CPS) said it had sufficient evidence to prosecute 45-year-old Colin Ash-Smith.
Claire was stabbed more than 40 times in an alleyway near her Greenhithe home in 1993, days after her birthday.
Mr Ash-Smith will appear at Maidstone Magistrates' Court on 28 February via video link.
No-one had ever been charged with the Dartford Grammar School pupil's murder.
Her father Cliff died in September 2012 and her mother Lin died in 2008.
'Complex police investigation'
Det Supt Rob Vinson, of the Kent and Essex Serious Crime Directorate Cold Case Team, said: "Claire Tiltman's unsolved death is one of the longest-running cases for Kent Police and has remained in the forefront of the minds of investigating officers for over two decades.
"Colin Ash-Smith is now to be brought before a court following our investigations and subsequent consultation with the CPS."
Nigel Pilkington, of the CPS South East, said: "In November 2012 I received a file of evidence from the Kent and Essex Serious Crime Directorate relating to the murder of Claire Tiltman on 18 January 1993.
"The investigation by the police has been a lengthy and complex one.
"Following further investigation, my review of all the evidence in the case has now been completed and I have concluded that there is sufficient evidence and that it is in the public interest to prosecute Colin Ash-Smith, 45, for the murder of Claire Tiltman on 18 January 1993 in Greenhithe, Kent."
Mr Tiltman made a fresh appeal for information about his daughter's death from his nursing home bed months before he died.
Former school Friends of Claire have organised regular memorial events, candlelit walks and a fundraising concert over the past two decades in a bid to keep the case in the public eye.