Dead python found under fallen tree in Northfleet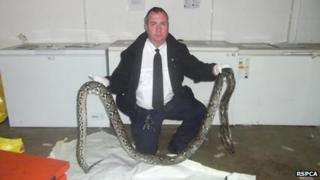 A dead Burmese python has been found beneath a fallen tree on a Kent street.
The 10ft (3m) snake was found trapped under the tree in Wallis Park, Northfleet, on Wednesday.
RSPCA investigators believe it died at least 24 hours earlier and have asked its owner or anyone with information about it to get in touch.
A spokeswoman said it had a skull injury caused by blunt trauma, but it was unclear if it had been caused by the falling tree or before.
She said that the snake could have been placed underneath the tree after it had died.
She added that Burmese pythons were one of the largest species of snake and "a snake of this size could easily crush a child".
"A fully-grown one would have the capability of seriously injuring or even killing a fully grown adult," she said.