U-turn over Kent student bus journeys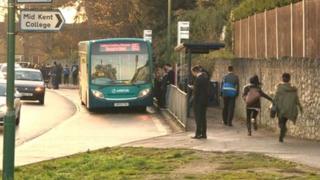 Kent County Council (KCC) has made a U-turn over plans to change provision of subsidised bus travel for children between the ages of 11 and 16.
The council previously announced the Freedom Pass - costing £100 - would only entitle pupils to £350 worth of travel from September.
Campaigners collected about 9,000 signatures against the plans.
The cost will now double to £200 and allow young people to make unlimited journeys until 19:00 on weekdays.
Trudy Dean, the Lib Dem leader on the council, said: "It's very much better than before, the budget proposal was hugely unfair for children living in rural areas who had a long distance to travel.
"The increase in cost for parents for many people would have been totally unaffordable. It's a much improved offer."
'Best we could do'
Emily Arnold organised the 9,000-signature petition against the plans.
She said the £350 worth of travel would have covered her children's journeys for about 17 weeks, with the remainder of the year costing her about £20 per week.
Councillor David Brazier, KCC's cabinet member for transport and the environment, said the earlier option had been "the best we could do with the money available".
He said: "We can make the saving that we need to to provide a scheme that will help young people get to school every day.
"We are desperately short of money, and it's a discretionary service which we could have abolished."
He said those children who received free school meals would pay half the cost of the Freedom Pass and looked-after children and young carers would get the pass free.