Dover port project 'could create hundreds of new jobs'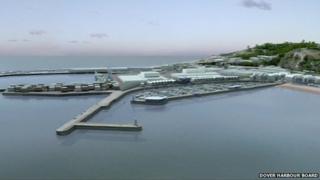 More than 600 jobs could be created and 140 positions safeguarded at Dover's port if plans for a new cargo terminal and marina go ahead.
Dover Harbour Board said it wanted to develop the new terminal and revive the Western Docks.
The plans also include creating a new marina as part of a transformation of the Kent town's seafront.
George Jenkins, chairman of Dover Harbour Board, said it would "bring new life" to the port.
"The people of Dover have waited long enough for Dover's revival," he said.
'Money doubts'
The 600 new jobs would be in the logistics industry, the harbour board said.
A spokesman said the plan would help the port plan for additional capacity at the ferry port in the Eastern Docks by transferring cargo operations to the west.
TIm Waggott, Chief Executive of the Port of Dover, said: "We're not talking ships of half a kilometre long that would go into London Gateway or Felixstowe.
"We're talking about small container [ships] and deep water vessels carrying fresh produce from Africa and South America."
Charlie Elphicke, the Conservative MP for Dover and Deal, said he welcomed the move of cargo operations from the Eastern Docks to the Western Docks.
Mr Elphicke is a director of the People's Port Trust which is campaigning to buy the Port of Dover for the community.
BBC South East business correspondent Mark Norman said the harbour board had not yet said how much it would cost, where the money would come from or what the timescale of the project was.
In 2011, residents of Dover voted overwhelmingly of favour of the plan to try and buy the port.
Mr Elphicke said the trust had proposed the moving of the cargo operation "a year ago".
"It shows how the harbour board is reacting to the what the People's Port Trust has been saying," he said.
"There are important questions for the harbour board to answer - where they are going to get the money, what their plan is."