Floods force Yalding mobile home residents into hotels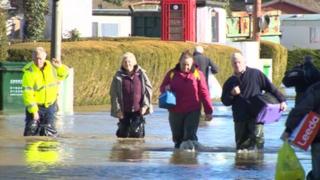 Twenty-six people have been staying in local hotels and a church hall after floodwaters again forced them to leave their mobile homes in east Kent.
Further flooding in the village of Yalding affected the Little Venice Country Park and Marina, which is next to the River Beult, over the weekend.
Ten of the residents had been living in temporary accommodation since losing their homes in the Christmas floods.
Victim Mike Tilyard said: "It's been going on now for 30-odd days."
He added: "We can't get near home, [and] when we can it starts to belt down again.
"The weather's not normal. The conditions aren't normal, and life isn't normal."
Residents were evacuated from the site in the early hours of Sunday morning, just three weeks after many had returned to their homes.
They were helped by firefighters using an inland boat.
Some began returning to their homes on Monday.
The Environment Agency said nearly 12mm (0.5in) of rain had fallen in the village within 48 hours.
More rain is expected in the coming days with six flood warnings currently issued for Kent.