Kent County Council finds an extra £2.5m for potholes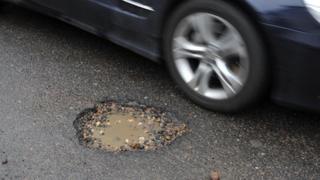 An extra £2.5m has been found by Kent County Council to deal with the damage caused to the county's roads by recent storms and flooding.
The money is on top of the normal road maintenance budget and the £4.6m spent on the council's "find and fix" scheme.
Leader Paul Carter said the council looks after 5,000 miles of road.
He said the extra cash for repairs was from council reserves, adding: "The roads are in a damaged state... we can't hang around."
"We have seized the opportunity while the weather remains relatively mild to get on the ground and make good damage where we can.
"The average time to repair a pothole is 14 days - that's despite the increase in numbers that we've seen."