Joshua Charnley guilty of driving into petrol station manager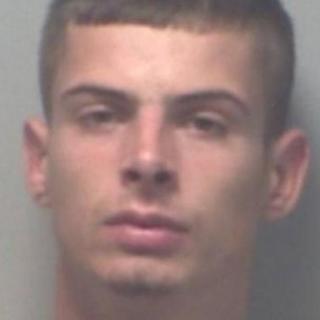 A teenager who drove into a petrol station manager and carried him down the road on his bonnet has been found guilty of grievous bodily harm with intent.
Joshua Charnley, 19, drove into Lekshmanan Asokkumar at the Texaco station at West Kingsdown, near Sevenoaks, on 31 July.
Mr Asokkumar was carried half a mile down the A20 before falling off.
Charnley had previously pleaded guilty to fuel theft.
Mr Asokkumar suffered brain damage in the attack and was treated at Kings College Hospital in London.
The court was told Charnley had used his Hyundai car as a weapon.
Kent Police said he had no driving licence and no insurance and had altered the registration number with black tape.
At the petrol station his girlfriend filled the car with £39 of fuel and got back inside as Mr Asokkumar came out on to the forecourt to try to stop them leaving.
He was forced on to the bonnet as Charnley drove away.
When he fell off, he hit his head on the road and suffered a fractured skull and liver damage.
Some of his injuries are likely to be permanent.
Mr Asokkumar's wife Judie said the assault had ruined their lives.
"I don't think he will ever be 100% what he was. He's not the man I married."
Charnley has been remanded in custody and will be sentenced on Friday.