University of Kent student campus evacuated after fire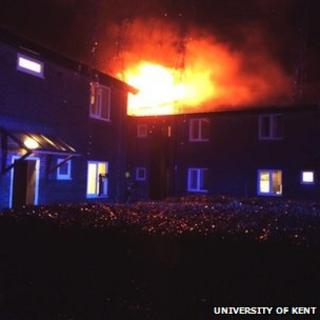 More than 40 students had to be moved out of their rooms overnight after a fire broke out in their accommodation block at the University of Kent.
A student raised the alarm after the blaze was spotted in an extractor fan in a first-floor bathroom at a house in Park Wood on the Canterbury campus.
The fire quickly spread into the roof space, but fire crews were able to contain it. No-one was injured.
Six neighbouring houses were also evacuated as a precaution.
The university said most of the students were allowed to return to their houses after being given shelter in the Park Wood administration building.
Two households are being re-housed in Park Wood while repairs to the roof are undertaken.