Kent Lydd Airport nuclear accident fears 'misconceived'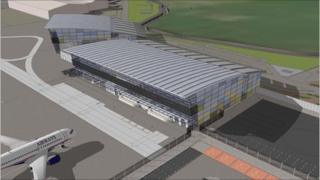 Campaigners against the expansion of an airport because it is too close to a nuclear power station have been accused of raising "misconceived" fears.
Appeals by the Lydd Airport Action Group (LAAG) and the RSPB have been heard at the High Court in London.
Lydd Airport officials said concerns about its proximity to Dungeness B power station were "without any merit".
Mr Justice Ouseley reserved a ruling on Friday after analysing evidence at the four-day hearing.
'Acceptable risk'
LAAG told the judge they feared an aircraft crash could cause a "nuclear accident of the most serious kind".
In response, airport bosses said nuclear industry regulators were "completely satisfied" that any risks associated with the planned development were acceptable.
The RSPB has said land around the airport is of "exceptional" importance to birds and expansion could harm "internationally important" bird populations.
It has raised concerns about an "intensive bird control regime" at the airport that would aim to reduce the risk to aircraft.
The £25m project for Lydd Airport includes a runway extension of almost 300m (328yds) and a new terminal building, which would be capable of handling up to 500,000 passengers a year.
Officials behind the plans have said the expansion will boost the Kent economy and bring benefits across south-east England.