Southern Water Kent sewage spill fine appeal dismissed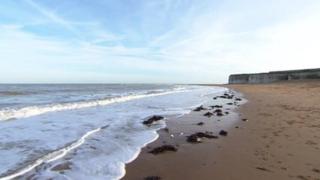 A water company that was fined £200,000 after sewage was pumped into the sea off protected Kent beaches has been told it has a "persistent record of criminality".
Southern Water went to the Court of Appeal, claiming its fine was too high.
Lawyers for the firm said little could have been done to prevent the incident.
But the Lord Chief Justice dismissed the appeal and said the company had 160 previous offences. Southern Water said his comments were "disappointing".
Lord Thomas said: "Looked at as a whole, there is a persistent record of criminality and offending by this company.
"In the absence of any explanation as to what the board of the company has done to deal with reforming itself - to eliminate its offending behaviour, to explain its conduct in detail in dealing with the incident in question - there is very little mitigation that can be put forward."
'No permanent damage'
The court heard defective equipment at Foreness Point pumping station led to several discharges of untreated sewage between January and July 2011, causing some beaches in Thanet to be closed.
Southern Water admitted breaching environmental regulations and was fined £200,000 at Canterbury Crown Court last year.
Its lawyers said the fine was too high because the crown court judge did not take enough account of the fact the leaks were caused by a design fault in the pumps and would therefore have been "difficult to anticipate".
They also said the company had not "failed to grasp the nettle" but fixing it had proved difficult.
Lord Thomas, sitting with Mr Justice Simon and Mr Justice Irwin, dismissed the appeal and said: "We can see no basis for interfering with the fine - indeed, this court would not have interfered with a sentence very substantially greater than the fine imposed on this company."
After the hearing, Geoff Loader, director of Southern Water, said the pumping station had been improved after a £2m scheme, and the beaches were in good condition.
He said the company appealed against the fine because the beaches were not permanently damaged and there was no damage to the water quality.
"We thought it was worth a second opinion on that fine. We've had the second opinion and we fully accept it," he said.