Rochester Airport business park approved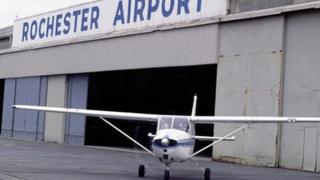 Plans to expand an airport in Kent with a science and technology business park have been approved.
Rochester Airport's two grass runways will also be redesigned as part of the £4m plans, which Medway Council said would create 1,000 jobs.
One runway will be closed and replaced with a new parallel grass and paved runway.
Critics of the expansion had warned having a concrete runway would be dangerous.
The airport, opened in 1933, is owned by the council and leased to operator Rochester Airport Limited.
'Important asset'
The council said there were no plans to develop the site into a commercial airport.
The grass runway will allow Medway Aircraft Preservation Society to continue to use the site for heritage aircraft and open days.
"Rochester Airport is an important asset for Medway and securing its future will help contribute to its regeneration and economic development," said Councillor Alan Jarrett.
"We want to maximise its potential for jobs and tourism."
A protest group led by campaigner Bill McClellan objected to the proposals because of noise and safety issues.
But Mr Jarrett said the Civil Aviation Authority regulations covered safety concerns.