Canterbury Cathedral Girls' Choir ends centuries of male tradition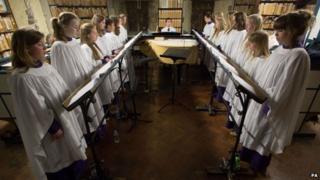 Centuries of male tradition came to an end when Canterbury Cathedral Girls' Choir performed for the first time.
The cathedral has been dominated by the singing of men and boys for more than 1,000 years, but that changed when the new choir sang in public for the first time at Evensong on Saturday.
More than 40 girls from local secondary schools auditioned to be choristers after the plans were announced in September 2013.
By November the final 16 choristers, aged between 12 and 16, had been shortlisted and rehearsals began.
But why did it take so long for an all-female choir to be set up at Canterbury, mother church of the worldwide Anglican Communion?
Some cathedrals in Britain, including Ely, Chelmsford, Norwich and Winchester, have had girls' choirs for years.
'Weight of history'
A spokesman for the cathedral said its legacy of having only men and boys in the choir for more than 1,000 years was to blame.
"With that weight of history, it can sometimes take a little while for change to occur," he said.
"And it is only about 20 years since the first women were ordained as priests.
"The role of women generally in society has changed vastly within the last 20-30 years, and the Church reflects that."
The cathedral's boys' choir, which sings daily, has a long legacy of achievement, and an alumni that includes notable musicians Harry Christophers, Trevor Pinnock, and Mark Elder.
The Very Reverend Robert Willis, Dean of Canterbury, said the boys' and girls' choirs would produce different sounds.
"I've no doubt a bit in the future that there'll be times when they all sing together, but one can achieve a diversity of musical sounds which we've heard already developing," he said.
The girls said there were "high expectations for us".
'So excited'
Abby Cox, 12, told journalists: "That's an amazing thought in the back of your mind - no girl has sung in this cathedral over an amazingly long period of time.
"I've always liked singing, but I think this is the major event that has happened in my life and I'm so excited to be part of it.''
Choir director David Newsholme, who is also the cathedral's assistant organist, said it was "no surprise" to find that the girls sang very well together.
He added: "And they will hopefully take on a little bit more in the cathedral and possibly way from the cathedral, from the odd concert, going on the occasional tour and possibly even making a recording in the future."
The girls will initially sing at services when the boy choristers, who are boarders at St Edmund's School, are on their twice-termly breaks.
"However a programme of further opportunities to sing in cathedral services and elsewhere will be developed in the near future," a cathedral spokesman said.