Little piggy that stayed at home adopted by community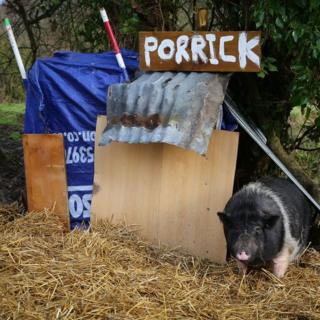 A little pig that stayed at home when her owners moved their other animals away has been adopted by locals.
Residents took pity on the female pig when it was left in an overgrown field in Shorncliffe, near Folkestone, Kent, four months ago.
They named her Porrick, built a shelter and fed her scraps of food.
Schoolchildren and Ghurkha soldiers, based nearby, have also taken an interest in the animal, believed to be a German micro pig.
Trevor Boxell, whose son owns the land, said: "The owners had 40-odd pigs in the field but when they left to go elsewhere, they left this poor little one behind.
"People round here started to take an interest in her and built her a pigsty using tin, wood and tarpaulin. They come in their droves to see her and feed her.
"I've left the gate open for her several times but she never wants to leave.
"I would like to find her somewhere permanent to stay but she seems quite happy, wagging her tail in the field."