Yalding flood victims still homeless one month on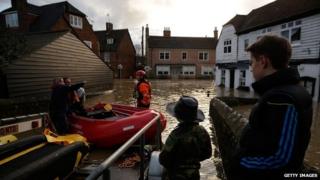 More than 600 properties were flooded as storms swept across Kent on Christmas Eve. One of the worst-affected villages was Yalding, where many residents had to leave their homes. How are they coping one month on?
Only about four of the 10 houses in the small close in Yalding where Peter Chapman lives are currently occupied.
Dehumidifiers are running in his home to help dry it out after 4ft (1.2m) of water poured in.
"The whole kitchen is going to have to be ripped out and all the white goods have been condemned," he said.
"We think probably the conservatory floor is going to have to be taken up and the joists looked at underneath that.
"Possibly the decking and also the conservatory doors will have to be replaced.
"We are just waiting on the surveyor's report."
Mr Chapman pays more than £300 a year for house insurance, but has not yet received any payments.
"We went to a hotel for a couple of nights and we had to buy clothes," he said.
"There has been considerable expense and it has just been a nightmare."
Geraldine Brown
Yalding parish councillor Geraldine Brown was among those who drew up the village's own emergency plan after Yalding was flooded in 2000.
Her cottage was flooded at Christmas when the plan was put into action. Now she is back in with dehumidifiers installed.
"The Sea Scouts were out with the canoes and then later on Kent Fire and Rescue came to get everybody out," she said.
"It took two days for the water to recede and then we didn't have any power so we couldn't go straight back in."
The council is now calling for more flood protection for the village.
"We need about £25m to do flood defences on the Beult and I am not sure of the cost to raise the reservoir at the Leigh Barrier by a metre - probably a similar cost, I would think," said Ms Brown.
Iris Lara and Coral Reach
Iris Lara and Coral Reach were among the residents of Little Venice Country Park evacuated from their mobile homes on Christmas Eve by boat.
They have already spent a month in a budget hotel in Maidstone.
"Its warm and its lovely, but its not home," said Ms Lara.
They are meeting an insurance company assessor next week but still have no idea when they will go home.
Ms Reach said her caravan nearly overturned.
"The decking stopped it from flipping right over but the shed on top of the decking was completely crushed by the van," said Ms Reach.
"The coastguard took us out at three o'clock Christmas morning."
Tricia Oyler
Churchwarden Tricia Oyler was among those who opened St Peter and St Paul's parish church to flooding victims a month ago.
The emergency services ferried many people to safety by boat.
"We provided food and drink and warmth, which is what people were looking for," she said.
"People have been so generous in what they have given - not just in material goods of food and drink and that sort of thing but with their time.
"This is a very vibrant village and the spirit here has been fantastic."
Tim Chapman
Postmaster Tim Chapman's business, on which many in the village of Yalding depend, could not reopen for two weeks after the floods.
"The water was about a foot high in here and about 18 inches in the sorting office next door," he said.
"It destroyed all the money and all the computers.
"All the coins had to be sent back as well - we couldn't use them."