Kent Lydd Airport bird threat claims 'unmerited'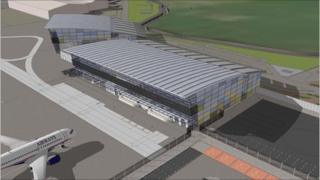 Complaints that expansion of Lydd Airport will threaten birds are unmerited, the High Court has heard.
Appeals by the RSPB and an action group against expansion of the Kent airport are being heard by Mr Justice Ouseley.
Written argument given to the judge by lawyers representing the airport said planners who approved the airport plans made "legitimate" decisions.
The £25m project for Lydd Airport includes a runway extension of almost 300m (328yds) and a new terminal block.
The RSPB has said land around the airport is of "exceptional" importance to birds and expansion could harm "internationally important" bird populations.
It has raised concerns about an "intensive bird control regime" at the airport that would aim to reduce the risk to aircraft.
And the RSPB has also said a government planning inspector made mistakes when giving a green light.
'Poorly-disguised attacks'
The Lydd Airport Action Group (LAAG) has also said "unique natural habitats on Romney Marsh" would be damaged and urbanised.
But the written statement from the airport's lawyers said: "There is no merit in any of these assertions."
It said: "They involve poorly-disguised attacks on the legitimate planning judgements and findings reached."
Mr Justice Ouseley has already heard that the airport, also known as London Ashford Airport, has a terminal able to process 200,000 passengers a year and expansion would see that number rise to 500,000.
Officials behind the plans have said the expansion will boost the Kent economy and bring benefits across south-east England.