Listed status for Rosherville Gardens bear pit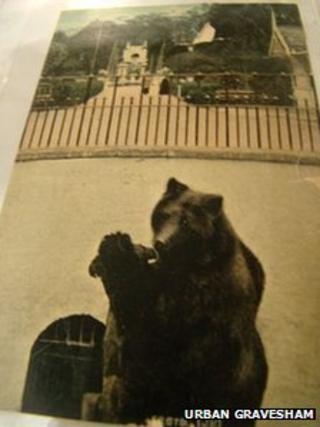 The remains of an open Victorian bear pit have been given Grade II-listed status.
The site in the old Rosherville Gardens in Northfleet, Kent, was rediscovered in an archaeological survey.
It dates back to 1837 and was used to house bears for the amusement of visitors to the pleasure gardens, who sometimes threw them food.
English Heritage said it was a "very rare surviving example and the only known brick-built example nationally".
The bear pit was discovered along with a significant part of the elevated Italian Esplanade in 2012.
The pleasure gardens closed in 1913 and were destroyed and filled in with chalk in 1939, despite the bear pit being one of only five in the UK.
'Nationally-important monument'
The land is owned by the government's Homes and Communities Agency which last year placed tons of landfill from the London Crossrail project on to the site, covering the remains.
English Heritage said the open bear pit and floor had survived the years of disuse relatively intact, and its four attached chambers or dens, remained legible, although much of the roofs of the four dens was missing.
It added it was similar in date and form, although slightly larger, to the "heavily-restored" Grade II-listed bear pit in Sheffield's Botanical Gardens.
An undated photograph, probably going back to the late-19th Century, shows Rosie the bear in the circular brick bear pit with iron railings on top.
A round-headed door in the pit is shown behind her.
Campaigners have been fighting to restore the bear pit and features of the Italian Gardens as a small local park .
Spokesman Conrad Broadley said the fact that the site was buried was "a minor problem" and the bear pit's listed status made the case for restoration a lot stronger.
"Just because they have hidden it, doesn't mean it doesn't exist," he said.
"The bear pit is virtually as intact as it was 180 years ago, it's just hidden from view.
"Unhide it and we have a nationally-important monument we can be proud of."