Strood woman 'can't sleep in bed' after false widow spider bite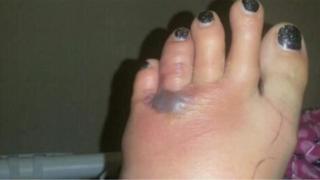 A woman says she has been left sleeping on her sofa after being bitten by a false widow spider.
Alison Blackburn, from Strood in Kent, said she had been too terrified to go into the room where she was bitten, on 10 January.
She needed hospital treatment to drain the venom from her left foot.
No-one is reported to have died from a false widow bite in the UK, but victims report chest pains, tingling sensations and swelling.
Ms Blackburn said: "I came out with a rash that went to my foot to my groin, where the doctors were drawing lines all over my legs to make sure it didn't pass certain points in my body.
"From then, it just got worse.
"I had to be wrapped in dry ice overnight with bath towels round me trying to get the heat out of my leg and the swelling down.
"It didn't matter how many antibiotics I had, nothing was going to kill this infection at the time."
Ms Blackburn, who has now returned home, said: "I'm not sleeping in my bed, my bed's been chucked.
"We're living on sofas at the minute and out of black sacks."
The false widow spider (steatoda nobilis) is the most dangerous of the 12 species of biting spider known in Britain.
It is thought to have arrived in Britain in crates of fruit from the Canary Islands in the late 19th Century, with the first reported sighting in Torquay in 1879.
The spider, which is about the size of a 50p piece, belongs to the same family as the black widow, although it is nowhere near as toxic.
Experts say they are on the increase, as existing populations expand.
The severity of symptoms depends on the amount of venom injected but can include severe swelling, chest pains and tingling of fingers.