UKIP leader Nigel Farage hit with placard at Kent protest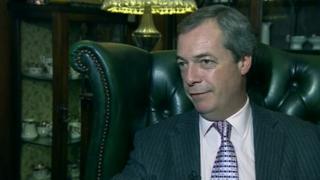 UKIP leader Nigel Farage has been attacked by a group of protesters during a visit to Kent.
He is believed to have been hit on the head with a placard as he made his way into the Walpole Bay Hotel in Cliftonville to meet supporters.
BBC political reporter Ellie Price said most protesters were campaigning about animal rights.
South East MEP Mr Farage was earlier criticised for saying working mothers were worth less to city firms than men.
On Sunday, he suspended a UKIP councillor for blaming recent floods on the legalisation of gay marriage.
Following the protest, Mr Farage said he hoped such events would not become a regular occurrence.
Kent Police said they were aware of the incident and that one person had reported to a police station.