Kent campaign for more high speed Ashford to Calais trains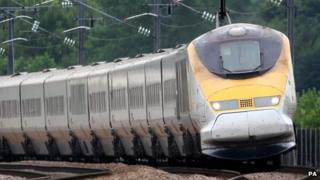 Running more high-speed trains between London, Ashford and Calais would boost business and tourism in Kent, the county council has said.
Currently, one early morning Eurostar service stops at Ashford on the way to Lille or Brussels.
The council said more services would encourage business and turn Ashford into a major shopping destination.
But Eurostar said passengers preferred fewer stops and there were additional costs when a train stops at a station.
The council is working with the French regional government of Nord-Pas-de-Calais on plans for a Transmanche Metro, which could connect Kent with the region.
Stephen Gasche, principal transport planner at Kent County Council, said: "The objective we seek is a basic service which operates three times a day, that serves Ebbsfleet and Ashford and Kent, then Calais and Lille in France and then on to Brussels."
Eurostar said when a train stops at a station, there are "significant additional costs", including providing staff at the station.
'Win-win situation'
Mr Gasche said the council had presented Eurostar with a number of different options.
He said: "We really think this could be, if Eurostar were willing to take it on board, a win-win situation," Mr Gasche said.
He said the council hoped the business case would be finalised and presented to Eurostar, HS1, other stakeholders and politicians in local and central government in the UK and in Lille this year.
Richard Romain, who regularly flies from his home the south of France to his business in Maidstone via Stansted Airport, said: "I think it's a brilliant idea, it's just about five years too late for me.
"I wanted to move to France some time ago, but I couldn't really justify moving to Nord-Pas-de-Calais because of the cost of communication and the difficulty of communication.
"I was really only left with the P&O Ferries or the Ferry Link which takes an hour and a half each way, or the shuttle which was quite expensive."
Eurostar said it remained committed to Ebbsfleet, Ashford and Calais International stations and that its timetables were carefully designed to meet the demand for services from both business and leisure travellers.