Lydd Airport: Legal challenge to expansion plans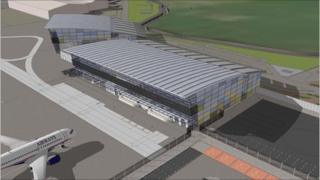 A legal challenge to the government's decision to allow the expansion of Lydd Airport in Kent is to be heard at the High Court later this month.
The £25m project includes a runway extension of almost 300m (328yds) and a new terminal building.
Campaigners are opposed to the expansion as the site is close to the Dungeness nuclear plant, an RSPB nature reserve and a military range.
The RSPB and Lydd Airport Action Group (LAAG) have lodged separate appeals.
LAAG's bid to quash the decision will be heard at the High Court on 23 and 24 January.
Tourism boost
The airport, also known as London Ashford Airport, was given permission to expand last April
Its new terminal would be capable of handling up to 500,000 passengers a year.
Officials said the plans would create jobs, boost tourism and revive a long-standing economic blackspot as well as provide much-needed additional airport capacity in the south-east of England.
LAAG has said the expansion would damage "the unique natural habitats on Romney Marsh and urbanise this important rural area".
It claims the introduction of heavy aircraft such as the Boeing 737s also "raised the probability of an aircraft accident at the Dungeness nuclear power complex leading to a serious radiological release to unacceptably high levels".
The RSPB said Dungeness was "one of the most important wildlife sites in the world and protected at global, European and UK levels".