Kent council report on poverty 'no cover up'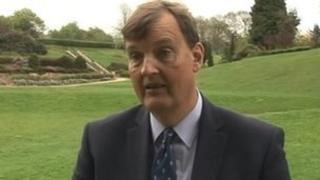 The leader of Kent County Council (KCC) has defended his decision to rewrite a report that links poverty in the county with benefit changes.
Paul Carter said the KCC report, released in November, was published without his knowledge and he was unhappy with some of its conclusions.
The new version concludes it is too early to say with any certainty what the impacts of welfare reforms will be.
"We are not trying to cover up anything," said Conservative Mr Carter.
"The officer that wrote it was a junior officer and didn't draw in my view appropriate conclusions from the evidence."
'Now well-balanced'
The first report said increases in homelessness, a rise in people in temporary accommodation, increased use of food banks and rising crime in some areas could be linked to the government's welfare changes.
The new one states other factors including the state of the economy, the cost of living and housing issues, are also to blame.
"Every single negative indicator was being badged against benefit change and in my view those conclusions weren't properly evidenced," said Mr Carter.
"Now we have got a well-balanced report."
However Kerry Keating, director of a food bank run by Thanet Families in Need, said she blamed benefits changes for the increase in clients.
Publication 'a mistake'
"How can the economy be blamed when there is growth in the economy?" she said.
"People are coming to us because of benefits cuts."
Both versions of the report are now available and feature on the agenda of the Policy and Resources Cabinet Committee, which will consider them on Friday.
Tony Travers, professor in government at the London School of Economics, said publication of the original report was "clearly a mistake".
"There is a risk it could be interpreted as the council didn't like the results when they were published," he said.
"The only way to get to the truth would be to get an independent organisation to look at it."