Large road hole work begins near Maidstone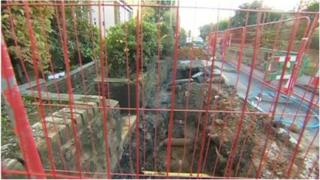 Work to stabilise and fill a large hole discovered by water company workers in a village in Kent will begin later.
The void, in Leeds, near Maidstone, measures 50 cubic metres and was found in November.
Kent County Council said it was unclear what caused the collapse, though the ground conditions around Leeds are known to "exhibit deep crevices", known as fissures.
A diversion on the B2163 will remain in place while the work is carried out.
John Burr, director of highways and transportation at the council, said there was no evidence the collapse was triggered by HGV traffic on the road.
He said: "We have now commenced work to carry out the final investigation and remediation.
"These works are highly complex and we may encounter further challenges as we progress, but we would like to assure local residents that we are working to reopen the highway as soon as possible."