Kent Police say children employed by London gangs to sell drugs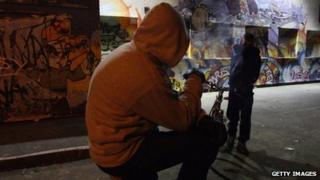 Children as young as 13 are being employed by London gangs to sell drugs in Kent, it has emerged.
Criminals are using the youngsters as couriers on trains to the county because the Metropolitan Police has disrupted gang activity in the capital.
Kent Police said officers were monitoring some gang members now living in the county.
The force said it was working with the Met and British Transport Police to tackle the problem.
Det Ch Insp John Coull, from Kent Police, said: "There has been a phenomena where we've seen increasingly younger people being used by gangs in London to transport drugs into areas of Kent.
"We've marked individuals that are residing [in Kent] who used to live in London and be part of gangs.
"And we're also working and information sharing with gang units within boroughs in London and also the British Transport Police to ensure that we identify individuals coming through to us and we can deal with them."
'Very well known'
Professor John Pitts, an expert on youth crime from the University of Bedfordshire, explained how the children were coerced into becoming drug mules.
He said: "You give a kid a small amount of drugs and then they're robbed.
"They're robbed by somebody who is also working for the guy who's given them the drugs.
"But from then on in, they owe a debt and they have to work that off."
Explaining why Kent was being targeted, he said: "You've got the saturation of the market, then you've got the fact that it's really dangerous to continue to do this in London.
"You've also got the fact that most of the people involved in this are now very well known on CCTV, so they need new people to do the legwork."