Funding helps Charing look back at village life during WW1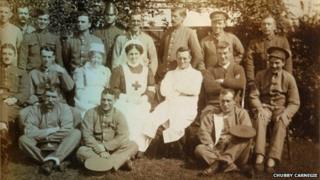 Organisers of an exhibition charting the impact World War One had on life in one village in Kent have secured a Heritage Lottery Fund grant of £7,800.
The award to the Charing and District Local History Society, combined with other cash, will enable it to mark this year's centenary of WW1.
Fourteen venues, including the station, both churches and the school will have displays linking them to the war.
Charing's Roll of Honour will also be restored and hung in the parish church.
Some 300 people from Charing's population of 1,223 served in the war between 1914 and 1918.
'Fascinating stories'
At least 47 men from the village who served in the forces died, but researchers believe that more than 250 fought and returned.
The village had two Voluntary Aid Detachment (VAD) hospitals, one of which was located in the parish hall.
This year marks 100 years since the outbreak of the war, and Charing will hold its exhibition in June and July.
Sarah Pearson, who is leading the project, said it would provide "a comprehensive picture of a crucial time in the parish".
"There are some fascinating stories about individuals, how the parish was affected and how it coped with the challenges," she said.