Canterbury Cathedral's first girls' choir holds debut rehearsal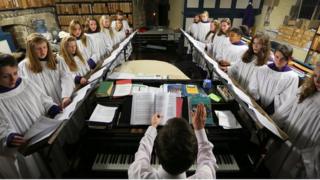 Canterbury Cathedral's first girls' choir in almost a millennium of male-only choristry has come together to sing for the first time.
Sixteen choristers aged 12 to 16 were selected for the Canterbury Cathedral Girls' Voluntary Choir in November.
The girls met to try on cassocks and rehearse for the first time on Wednesday, ahead of their opening public performance on 25 January.
Cathedral records show its choirs have been male-only for at least 900 years.
'Very talented'
Choir director David Newsholme said the "standard and level of enthusiasm was incredibly high" at the 40 singing auditions held at the end of November.
He added that "after much difficult deliberation, we have appointed 16 girls from eight different schools in the local area".
"This is a very exciting time for the cathedral and for these 16 very talented young ladies."
The girls' choir will sing in the cathedral when the boys' choir takes its breaks twice each term.
They will sing at services on six days a week and regularly make recordings and concert appearances.
Music by Ralph Vaughan Williams, George Dyson and Samuel Sebastian Wesley will feature at the choir's Evensong debut.
Canterbury Cathedral's male choir is made up of 25 choristers, aged between eight and 13, from Canterbury's St Edmund's School and 12 lay clerks, professional singers who work locally.