Kent Police to lose more officers says Chief Constable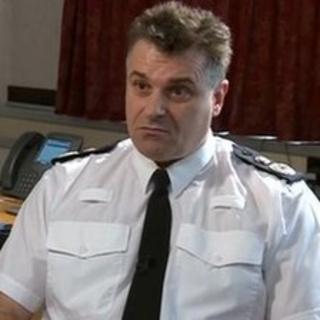 Further cuts to Kent Police's budget will see the force lose up to 100 officers, the county's chief constable has said.
The force has to make savings of about £20m in the year 2015-16.
The savings follow previous cuts of £53m, which saw the loss of 1,200 jobs, including 500 front-line officers.
Chief Constable Alan Pughsley said the force faced a "challenging time" and he would make as many "non-people savings" as he could in an effort to keep staff.
Ian Pointon, chairman of the Kent Police Federation, said he was concerned to hear that further police jobs would be cut.
"We're going to lose at least another 100 police officers - I think 150 - you cannot police Kent in the 21st Century with the resource levels that we had in the 1980s," he said.
A force spokesman said some of the jobs lost would be through "natural wastage".
'Creaking'
Mr Pughsley's announcement coincides with the opening of a round of recruitment for new officers in Kent.
Mr Pointon said it was a "double whammy", explaining the force was "haemorrhaging experience of people at the end of their careers".
He said new recruits would only be cheaper in the short-term, but would lack experience.
Mr Pughsley, who took over the top role from Ian Learmonth on Saturday, said in future, more officers would be put into local policing, while lower level crimes would be investigated over the telephone, reducing officer demand by about 25%.
However, he said the priority would still be to maintain visible community and front-line policing.
"If we reduce demand, use technology better and redesign the model slightly, so that we're more embedded with our communities, that will give us the best optimum chance of keeping the service as it currently is.
"I have to reduce the demand on my officers and staff - they're creaking at this moment in time, they are working so hard to deliver a really, really quality service."
He added that the force had to "do things differently".
"If I take more officers out, or more staff out, and I don't reduce their workload, it's simple - the mathematics don't work out."