Kent emergency team ready as Yalding at risk of flooding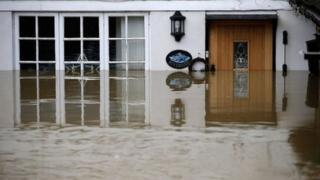 An emergency team that helped flood victims in Kent is on standby to assist people who are displaced by floods for a second or third time.
Kent County Council said its team had provided help with food, clothing and accommodation to those who had to leave their homes in Yalding.
Those people remained in hotels but emergency support had stepped down.
The council said the team was on standby in case those residents or others were hit by floods again.
"Kent's Support and Assistance Service will respond to any new enquiries for support and any families or individuals who find themselves displaced for a second or third time," the council said.
Flood warnings issued
The Environment Agency has warned of high tides along the Kent coastline and flooding in the lower reaches of rivers such as the Medway.
On Saturday, 14 flood warnings were in place across the South East.
The agency said river levels on the Medway had begun to recede after Christmas and New Year, but further rainfall this weekend meant the risk of further property flooding remained, particularly in Yalding.
Maidstone Borough Council said its emergency centre and call centre remained operational and staff were working with other agencies and the parish council to provide help and support.
It said the flood risk remained for residents already evacuated from Yalding and advised other residents in the town to remain vigilant.
The council said other areas at risk of flooding over the weekend included Headcorn, Maidstone and Tovil.
The county council said flood victims in need of help should phone its contact centre on 0300 333 5700.