Kent flood residents 'misled by Maidstone council message'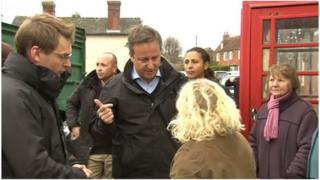 Flood victims who tried to contact a Kent council for help were greeted with a message telling them it was closed.
David Cameron promised to "get on to the council" after Yalding resident Ericka Olivares told him she spent days trying to get through.
Maidstone council leader Chris Garland said the number diverted to an out-of-hours helpline - but only after telling people the authority was closed.
It led many to believe no-one was available, he admitted.
In a visit to the flooded village on Friday, the prime minister met Ms Olivares, who said she had been trying to contact the council since Monday, she was still in her flooded house, and she had no electricity.
Mr Garland said many council staff returned to work during the Christmas holidays to provide help, and had worked around the clock since Christmas Eve.
Sandbags distributed
He said the council did not know Mr Cameron was planning to be in Kent but staff were already on the ground, planning the clear-up and providing temporary accommodation before the visit.
The council chief said a message on the authority's emergency number began with the information that the council was closed before going to the helpline in Medway.
He said people were hanging up but the council responded to calls that went through, sending sandbags to Yalding and Headcorn parish councils and deploying staff.
"We need to make sure that our phone number doesn't give that message that we're closed, because people were hanging up at that time," he said.
"If people had hung on then they would have got through to someone," he added.
Mr Garland said some families remained in temporary accommodation on Monday, and the council was working to support residents and businesses who were affected by the storms.
He said there was a lot of damage in Yalding, and the extent of damage in Maidstone would be clearer over the next few days.