Surrey flooding: Firefighters refrain from striking for 'major incident'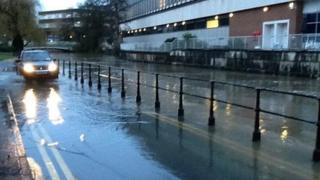 Firefighters in Surrey decided not to take part in a strike on Christmas Eve when flooding on the River Mole was declared a major incident.
Dorking, Leatherhead and Guildford were all placed on flood alert as storms hit the county.
Crews were due to strike from 19:00 to 00:00 GMT but were recalled, the Fire Brigades Union (FBU) said.
The Environment Agency said it expected water levels at Leatherhead and Fetcham to peak at about midnight.
The FBU said floods had caused chaos and devastation across Surrey and, as such, officers had voluntarily refrained from participating in the strike over pensions.
"Over the past 24 hours the mass flooding in Surrey has seen whole communities submerged in water, many without power or mains water supply," the union said.
'Fire station evacuated'
A spokesman said firefighters had been stretched "to the max" rescuing countless people near rivers.
He said many homes had been evacuated near the rivers Wey and Mole after they burst their banks in several areas and many properties were expected to need evacuating throughout Christmas Eve as rivers continued to rise.
At one stage, even Leatherhead fire station was evacuated, he said.
He said a major incident had already been declared and the Environment Agency had predicted floods would worsen.
The agency has described the floods as a one-in-a-100-year event, he added.
It issued its highest flood alert for Leatherhead, warning of severe flooding, and said floods to properties and infrastructure were likely to continue into Christmas Day morning.
"Our teams are on the ground clearing watercourses and we will continue to closely monitor the situation," an agency statement said.
"We are working closely with the emergency services and local authorities to assist anyone affected."
It said the river level should improve during Christmas Day.
Homes in Leatherhead were evacuated with people moved to a local day centre. They were being collected by friends and family.
Some residents had been moved from their properties in boats, BBC Surrey reporter Adrian Harms said.