Medway Queen apprentices kept on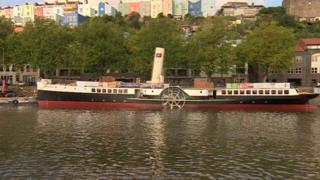 Five apprentices who helped restore the historic Medway Queen paddle steamer are to be kept on after being told they would lose their jobs.
The apprentices, all from Kent, were among 12 people told their jobs would be gone by the end of December after funds for the project ran out.
The vessel was among the "little ships" that helped rescue soldiers during the Dunkirk evacuations of World War Two.
The apprentices' jobs are being funded until March.
The Medway Queen returned to Gillingham in November after exterior restoration work in Bristol was completed.
The project was funded by the EU and the Heritage Lottery Fund.
Another £2.5m to £3m is needed to finish the internal refitting over the next two years,
Two administrative staff are also being kept on to work on plans for the future.
The apprentices have been making parts for the ship for the past two years.
"We have agreed to fund the apprentices until the end of March," said Medway Council regeneration director Robin Cooper.
"They have developed the skills which are now needed to take forward the next stage of fitting out this magnificent ship now that she has arrived back in Medway."