Uganda anti-gay law: Safety fear for Briton Bernard Randall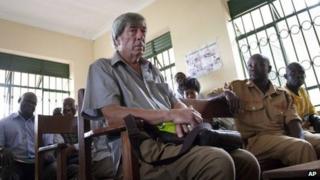 A retired British man who is facing charges in Uganda of possessing a gay sex video fears new anti-homosexuality laws could lead to vigilante attacks.
Bernard Randall, 65, from Kent, said the bill passed last week could inflame "the passions of the more bigoted" and feared for his safety.
The bill toughens the punishment for homosexual acts to include life imprisonment in some cases.
Mr Randall is currently awaiting trial in Entebbe in the east African county.
He said: "[The] development is of great concern because it inflames the passions of the more bigoted and lends legitimacy to vigilante action.
"I can foresee more David Kato-type killings, and I do not want to be one of them.
"My situation can only get worse."
In 2011, gay rights activist David Kato was beaten to death in Uganda, although police claimed the killing was not related to his sexuality.
The new bill also makes it a crime punishable by a prison sentence not to report gay people and bans the promotion of homosexuality.
Its supporters say it is needed to protect traditional family values, which they say are under attack from Western-inspired gay rights groups.
But the bill has been condemned by world leaders since it was first mooted in 2009, with US President Barack Obama calling it "odious".
Facing prison sentence
Mr Randall, who is originally from Faversham and appeared in court in Uganda earlier in November, has denied a charge of trafficking obscene publications.
He is due back in court on 22 January and faces a possible two-year prison sentence if found guilty.
It had been suggested that Mr Randall might be deported before the case goes to trial, but he does not believe that will now happen.
"I was assured by both the resident state attorney in Entebbe and by the immigration commissioner for inspection and legal affairs that I would not be deported whilst the cases were ongoing, and that if the case against me was dropped or that I was found not guilty then I would be free to leave in the normal way," he added.
"I would only be deported if I was found guilty. Time will tell."
Mr Randall was charged alongside his friend Albert Cheptoyek, 30, a Ugandan national with whom he shares a house.
Mr Cheptoyek has denied a more serious charge of carrying out "acts of gross indecency", which could see him jailed for up to seven years if found guilty.
Mr Randall was arrested after thieves stole a laptop from his house. Stills from a video on it then appeared in a tabloid newspaper.