Deal Town Council cash boost opens pier for holidays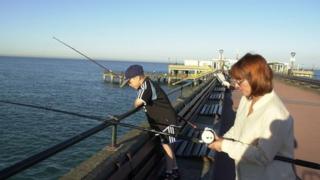 A seaside pier will be open on Boxing Day and New Year's Day after a Kent town council stepped forward to help with the cost.
Dover council said it would be opening Deal Pier on both days after receiving a contribution from Deal Town Council.
It means the pier will be open for the annual Boxing Day Dip organised by the community, Dover council added.
In a joint statement, the councils said funds had come from the Deal mayor's allowance.
'Electrifying atmosphere'
Margaret Edwards, who organises the Boxing Day Dip, said being able to use the structure allowed crowds of spectators to spread out along the pier and promenade.
She said more than 200 people would be going into the water - with some in wet suits, some in bathing costumes and some in fancy dress - and in the past the event had attracted thousands of spectators.
"A lot of people also go fishing on Boxing Day," she said. "It benefits everybody.
"They have such a heavy day before. On Boxing Day they like to get out in the fresh air.
"When they go in, the atmosphere is electrifying."
She said the event last year raised more than £4,000 for charity and over its 32 years had raised more than £100,000 for good causes.
The additional opening hours means the pier will be open until New Year's Day - with the exception of Christmas Day.
Deal council contributed £313 to the cost of opening on the two days, which Dover council said was £156.50 per day.
Damage and demolition
Deal Pier was built in 1954, and is the third structure to stand on the site.
A first pier built in 1838 was never finished because the firm behind the project ran into financial difficulties, according to Dover council's website.
The unfinished pier was used as a docking point for steamers until a storm in 1857 threw it on to the beach before it was sold as scrap.
A second pier opened in 1864 but was hit by two ships during the next two decades, and was smashed to pieces in 1940 by the Dutch vessel Nora.
The army demolished the remains of the pier to allow World War Two coastal guns a clear line of fire.
Work began on the current pier, which is made of reinforced concrete, in 1954.
Dover council said the pier continued to be a significant local landmark, public amenity, and internationally recognised angling venue. The pier is open throughout the year.