Call for border controls to move to Dover and Folkestone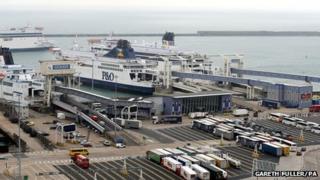 Up to 300 immigrants are illegally entering the UK at the Port of Dover each week, according to the immigration chief at the Port of Calais.
Philippe Mignonet, who is also the deputy mayor of Calais, said Britain was becoming a "magnet for illegal immigrants".
He said transferring border controls from Calais to Dover and Folkestone would solve the "British problem".
The Home Office said Border Force staff worked well with French authorities.
A spokesperson said: "Border Force has staff in northern France to stop individuals before they reach the UK and in the year to April 2013, 11,000 attempts to cross the Channel illegally were prevented.
"Border Force works collaboratively and successfully with the French authorities to combat cross-Channel illegal migration and the organised criminality behind it."
'Reality of the problem'
Mr Mignonet told the BBC that he felt as though France had been left alone to deal with the issue.
He called on the British Prime Minister David Cameron to visit the country to see the impact for himself.
"Because of the Entente Cordiale I think he [Mr Cameron] should make an effort and listen to what we are asking and come over to see the reality of the situation and try to find, or try to build, the beginning of solutions," he said.
Last week the Commons public accounts committee blamed the Border Force for failing to find "concealed illegal entrants" in lorries before they travel to Dover.
The MPs said the body tasked with securing Britain's air, sea and rail ports admitted it had not met eight of its 19 performance targets.