Cancer chemicals found in 'fruit-head' dolls in Medway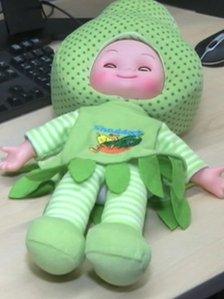 Dangerous toy dolls containing chemicals that may cause cancer and deformities in unborn babies have been seized from a market stall in Medway.
The "fruit-head" dolls have strawberry, apple, tomato or blackcurrant-shaped heads, and contain phthalates, which can also cause infertility in men.
The brightly-coloured toys have previously been banned across Europe.
Ian Gilmore, of Medway Council Trading Standards, said tests on four of the dolls were positive for the chemical.
Earlier this year, the dolls were found on sale at a shop in Gillingham.
Mr Gilmore said despite the ban, the dolls kept resurfacing at street markets and discount shops.
"They're a continual problem, especially at Christmas, because the dolls represent quite an attractive gift," he said.
He urged any retailers selling the dolls to remove them, and for shoppers to refrain from buying them.
Related Internet Links
The BBC is not responsible for the content of external sites.