Whitstable's festive lights delayed 'on slow boat from China'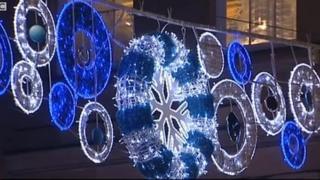 Residents and traders in a town in Kent are still waiting for festive lights to adorn their high street, with less than two weeks to go until Christmas Day.
A new bespoke lights display was ordered for Whitstable from China but following delays has still not arrived.
The lights were organised by Whitstable Chamber of Commerce after Canterbury City Council said it could not afford to pay for them.
Brian Hitcham, president, said he hoped the lights would be up by 22 December.
'Steep learning curve'
He said the festive decorations had been on "a slow boat from China after leaving the factory slightly later than we'd anticipated".
"It's been our first time at organising the lights... but it's been a very steep learning curve.
"I would've liked to have put them up at the end of November or the start of December."
The container ship carrying the lights docked in Felixstowe, in Suffolk, on Wednesday night and Mr Hitcham said he hoped they would arrive in Whitstable within the week.
Globelink Fallow, the shipping agent dealing with the order, told the BBC it would make it a priority and push it through as quickly as possible.
"The plan is to still get some of the lights up, even if it's a day or two before Christmas," Mr Hitcham said.
"We will have a nice light display for Whitstable this year."