Sevenoaks grammar school annexe bids rejected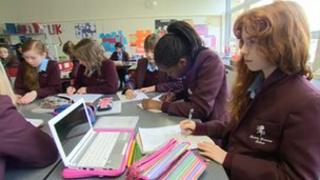 Plans to expand grammar school provision in an area of Kent have been rejected by the Department for Education (DfE).
Weald of Kent Grammar and Invicta Grammar both put in bids to run a grammar school annexe in Sevenoaks.
In a statement, a spokesman for the DfE said: "Neither of the proposals which were put to us complied with the law."
Kent County Council said it was disappointed, but would look at how it could "continue arguing" its case.
The law forbids the opening of new grammar schools, but changes made last year enable existing schools to expand.
The DfE statement continued: "We will of course look closely at any further applications to expand schools into Sevenoaks.
"The two schools whose applications were unsuccessful are free to revise their plans and re-submit them."
'Setback for Kent'
In March, Invicta was named as Kent County Council's (KCC) choice to run the annexe, before the Weald of Kent bid was submitted.
Councillor Roger Gough said: "This decision from the secretary of state is a setback for the council and the people of Kent, who have put their faith in and strong vocal support behind, a legitimate and democratic process to campaign for selective education in Sevenoaks.
"The council took specialist legal advice on this matter and remain convinced that an annex of an already established grammar school is the right way to respond to this issue.
"We will be examining carefully the points raised by the secretary of state in making his decision, and discussing them with the two schools concerned and looking at what next steps we might take, in the light of his comments."
'Campaign goes on'
Conservative MP for Sevenoaks Michael Fallon said: "This decision is bitterly disappointing and does nothing to address the pressing need for more places in Sevenoaks.
"The ruling means that any new Sevenoaks annexe must be the same as the sponsor school. Only a girl's school would be allowed while Weald of Kent remains single-sex; a co-ed school would only be possible if Weald of Kent itself became co-ed by the time it opened.
"We will have to rethink. our campaign goes on."
The council had identified the site occupied by Knole Academy until 2015 for the grammar annexe.
Earlier this year, the government said it intended to use the council-owned site in Seal Hollow Road for a free school.