Canterbury City Council lawyers urge beach hut rent-rise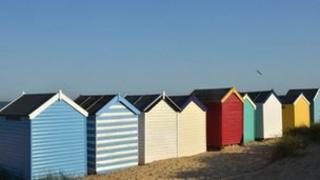 A council has been told by its lawyers to raise beach hut rents in order to act in taxpayers' best interests.
Canterbury City Council said the authority's barrister had provided clear legal advice that it had to run beach huts on a commercial basis.
The authority said discounts for residents and people who had rented a hut for more than 15 years would end.
Councillor Peter Vickery-Jones said he was unhappy about the move but the council had to follow legal advice.
The council is due to consider the plans on Thursday and comments can be submitted until Wednesday, as part of a consultation.
'Pressure on pensioners'
Changes in rents would, for example, see rent for a Herne Bay hut rise from £276 a year to £475, and rent on a Tankerton hut rise from £368 to £650.
Mr Vickery-Jones said: "I am genuinely unhappy that we are having to put these proposals forward.
"We are mindful of how difficult this will be for some beach hut owners and we have done our level best to lessen the impact as much as possible."
The council said new rents were planned to come into effect on 1 April next year, but the authority was considering phasing increases in over two years, to ease the situation for some people.
Alan Ratford, chairman of Herne Bay Beach Hut Owners' Association, said some pensioners who had used beach huts for more than 15 years and had received discounts would see their annual rent rise from £136 a year to £475, which he described as "terrible".
He said: "We are obviously wanting that to be changed completely.
"We have all saved up to provide a good environment for our children and grandchildren.
"People have holidays on the beach rather than going abroad, because that's what they can afford and this ridiculous, incredible increase is absolutely appalling."