Michael Kerr: death: Murder accused 'made up rape claim'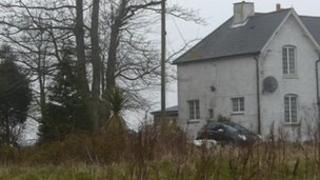 Two women slashed the throat of a 30-year-old DJ with learning difficulties and then claimed he had tried to rape them, the Old Bailey has been told.
Charlotte Coulson and Alicia Davis, both 22, are alleged to have stabbed Michael Kerr 11 times in a premeditated attack in Kent.
His body was found beside his car on 10 April in Satmar Lane, Capel-le-Ferne, near Folkestone.
Miss Davis and Miss Coulson deny murdering Mr Kerr.
The court was told Mr Kerr was born with learning difficulties and had a reading age of about nine or 10.
He spoke with a slight stammer, had difficulties with hand and eye co-ordination and had never held down a proper job.
His car was his pride and joy and he used to give local people lifts for petrol money.
'Heated exchange'
Prosecutor Sarah Whitehouse said both defendants were heavy drinkers and on the day before his death, Miss Davis had had sex with Mr Kerr for money so she could buy more alcohol.
Later there was a heated text and message exchange between the two women and Mr Kerr.
Miss Coulson, of Clarendon Road, Dover, claimed to police the two women were in his car in the early hours of 10 April.
She said she fell asleep and awoke to find Mr Kerr trying to rape Miss Davis, of Milner Crescent, Aylesham.
The women claimed they found a knife lying on the floor of the car and stabbed Mr Kerr in self defence.
Ms Whitehouse said the prosecution believed the accounts given by the two women were a series of lies.
"There never was any rape but they put their heads together and concocted a vicious story about Michael Kerr in order to exonerate themselves," she told the court.
The trial continues.