Medway Queen restoration team lose jobs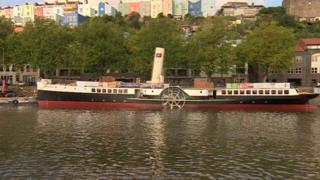 Twelve out of 14 people working to restore the historic Medway Queen paddle steamer are losing their jobs after funds for the project ran out.
The vessel was one of the "little ships" that helped recue thousands of soldiers during the Dunkirk evacuations of World War Two.
It returned to Gillingham last week after exterior restoration work in Bristol was completed.
But the vessel still has to be completely refitted internally.
Project manager Bob Stokes, who is also losing his job, said it was the worst Christmas present anyone could get.
He said funding from the EU and the Heritage Lottery Fund would run out this year and 14 paid workers, including six apprentices, had been given notice their jobs were going by the end of December.
'Project mothballed'
Two administrative staff have been kept on to work on plans for the future.
"We are hoping something might turn up before the new year and we might be able to rescind some of the notices," he said.
He said the ship looked "resplendent" from the outside, but "a lot of work still to be done".
The ship still did not have a boiler, the engine parts needed connecting, public rooms had to be refitted, and a lot of mechanical work was needed, he said.
He said £2.5m to £3m was required to complete the project over the next two years, but half a million pounds could keep the team going through next year.
Mr Stokes said currently the only option was to mothball the project and work on short-term care and maintenance until more funding was found.
The paddle steamer was built in 1924 to take holidaymakers around Kent.
It was commissioned by the Navy in 1939 and became known as the Heroine of Dunkirk after helping to evacuate British troops.