Manston Airport will be 'successful and vibrant'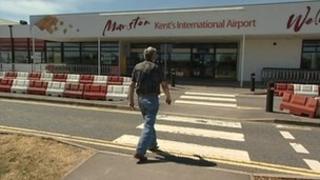 The new owner of a loss-making Kent airport said she wants to make it "successful and vibrant".
Manston Airport has been sold by New Zealand company Infratil to Ann Gloag, a co-founder of the Stagecoach Group.
Infratil said in March last year it would sell its two UK airports, at Glasgow Prestwick and Manston.
The leader of Kent County Council, Paul Carter, said the council would be working with the new owner to help create jobs in East Kent.
Mr Carter said: "We are delighted that Manston Airport has ambitious new owners in Ann Gloag and her company.
"Manston Airport has massive potential to create prosperity and job opportunities in east Kent."
Ms Gloag said: "Whilst this is a loss making airport, I hope that with the co-operation of our neighbours and the wider community of Kent, the airport partners and staff, we can capitalise on the opportunities available to give Kent the best chance possible of having a successful and vibrant airport."
Railway station
Plans for a railway station and improved road access to the east Kent airport have already been drawn up.
The proposals, part of the Manston Green housing development, would see about 800 homes built and a parkway station on land east of the airport.
In July, Manston Airport revealed its 40-year vision as part of its submission to the government commission looking at airport expansion in the South East.
Between 2015 and 2025, Manston said it could be handling five million passengers a year and 400,000 tonnes of freight.
It also proposed becoming a principal "diversion" airport for Gatwick and Heathrow while new capacity is being built.